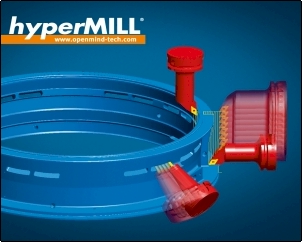 CAD/CAM
To ensure our machines operate as efficiently as possible, programming is no longer carried out on the machine itself, but is now done using an up-to-date CAD/CAM system.
This System comprises two elements – HyperCAD and HyperMILL. With this combination we can capture the most unusual, unique and awkward product shapes. This CAD model is then the basis for directing and controlling the automatic machine tool which generates the tooling and rotation.
With the CAD/CAM system's advanced technology features (such as Element Recognition), we are able to recognise open spaces and surfaces in the model. A macro database is then connected which contains the most known turning and milling strategies. Thus, the generation of the editing program is generated almost instantaneously and it can then be linked to the automatic machining systems.
In addition, our CAD/CAM System allows us to assist you to design or modify your product requirements. The following list gives an indication of the many types of drawings that we can read.
Catia 4
Catia 5
DWG
DXF
IGES
Parasolid
ProE
Solidworks
STEP
STL
Unigraphics
VDA